Contestants Are Lining Up, PAYING To Compete In Siberia's 'Hunger Games' Reality TV Show
A Russian bureaucrat handed over $16 million to fund the reality show, Game 2: Winter. Modeled after the wildly popular Hunger Games trilogy, the series expects contestants to fight … to the death.
The show's dangerous terrain, life-threatening situations, and conniving mind games look just as terrifying if not MORE realistic than the feature films.
Russian millionaire, Yevgeny Pyatkovsky, is the supposed 'brainchild' of the horrific idea and explains 'everything goes' during filming.
"Each contestant gives consent that they could be maimed, even killed. 2,000 cameras, 900 hectares and 30 lives. Everything is allowed. Fighting, alcohol, murder, rape, smoking, anything," the man said.
Yikes.
Pinterest
There is one slightly comforting aspect of the craziness, the fact that police will be watching.
Game2: Winter made it quite clear while contestants are on foreign soil and are expected to abide by the laws of the Russian Federation.
Apparently, if the police sees something unacceptable, they'll 'take you to jail.'
The paying contestants (that's right, paying) are actually required to sign a waiver acknowledging fault in any sort of fatal accident or injury.
Keep in mind, we're talking about the same Siberia formerly known for its death camps and matching the temperature of Mars (Yup. -40 degrees Fahrenheit).
It looks like to them, the $1.6 million prize is worth braving the Siberian wilderness … for 9 months!
Contestants will be subject to the habitat, wildlife, and worse still, each other.
They're expected to find shelter, manage any health scares, as well as hunt, fish, and cook for themselves.
While no guns are allowed 'on set,' representatives explain survival training as well as knives will be provided.
How comforting.
Pinterest
Set to be broadcast worldwide, the TV series explains there won't be an actual filming crew on location.
Instead, thousands of cameras will be hidden within the country's harsh landscapes.
Each player will also wear a personal camera with a 7 hour battery life.
Oh, if any of the contestants happen to need medical attention?
Not to worry, players can simply push the 'panic button' that will alert the closest emergency helicopter … 30 minutes away.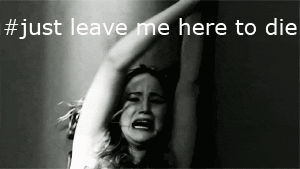 Giphy
The other catch being, you're not allowed to come back and are immediately disqualified from winning the game.
Somehow … we think they'll be ok.
Forever Young Adult